Chiaroscuro: Impressions and Imprints (September 12, 2014 - October 8, 2014)
INTRODUCTION
The Richard J. Massey Foundation for Arts and Sciences is pleased and proud to exhibit work by Alumni of The Florence Academy of Art. This show is a tribute to Daniel Graves the Founder of The Florence Academy of Art, which is now celebrating its twenty-third anniversary. The Academy continues a tradition of artistic training that descends from Renaissance ateliers. The education program at the Academy has its roots in the classical-realist tradition of the nineteenth century French Academies but also addresses the creative and professional position of the artist in the twenty-first century. The Academy is dedicated to the training of artists through the combination of intense observation and advanced technical skills. Daniel's vision and dedication have resulted in one of the leading art schools in the world. The Florence Academy of Art also owes its success to the dedication of its faculty, administrative staff and supporters who deserve the highest accolades for what they have achieved.
An exciting new chapter for The Academy opens in 2015 when it establishes a school in the New York metropolitan area. I felt that a wonderful way to show my support for The Florence Academy of Art, and to introduce The Academy to New York, was to exhibit work made by its graduates. Many of the works of art being shown at my foundation are available for purchase. Proceeds from sales will go to the artist and The Academy. I hope that you will enjoy the show and support the Florence Academy of Art.
- Richard J. Massey
FLORENCE ACADEMY ALUMNI EXHIBITION
PRESS RELEASE
CHIAROSCURO: IMPRINTS AND IMPRESSIONS
Throughout western history, many of the great masters who revolutionized art were trained by the atelier method. During the Renaissance this classical teaching approach flourished and was based on the complex imprints of learning from past traditions. The art academies of Europe continued this process of teaching throughout the centuries until it reached its height at the French Academies in the nineteenth century.
The core foundation of learning art in the Renaissance has been revived by a contemporary old master, Daniel Graves, who founded the Florence Academy of Art. His illuminated vision is teaching new generations of classically trained visual artists. The Florence Academy of Art Alumni exhibit at the Richard J. Massey Foundation for Arts and Sciences is currently showcasing exquisite art works from recent alumni and instructors. These modern masterpieces echo old master skills, techniques, compositions, colors, subjects and light with brilliant twenty-first century flair. Extraordinary observation, symbolism, narrative overtones and a complete devotion to each subject envelop the viewer into personal impressions from a rare pictorial world.
"If I have seen further it is by standing on the shoulders of giants"
-Isaac Newton
This quote is a testament to visionary thinkers such as Aristotle and Galileo, and genius artists such as Leonardo da Vinci, Michelangelo and Vermeer. It was through these giants of learning and creation that the western world was transformed into the modern age by articulately observing reality as a gateway into the imagination. For centuries, artists have proven that an art education using the classical language opens new doorways into modernism. The eternal in art never exists merely on one's own merits, but in each attribution to a timeless lineage of artists contributing before it. The artists from the Florence Academy of Art have proven that revisiting these complex contributions through fresh ideas of a new generation will always produce another brilliant facet linking us to the rich past of great artists. New ownership of past art traditions expands one's ability to speak a sophisticated language, without detracting from existing trends. For each generation, a new way of seeing and creating art does not ignore valuable traditions and observational skills; it honors and integrates the power and wisdom of the masters by harmonizing it with contemporary imagination and freedom of expression.
To a Renaissance artist and scientist such as Leonardo da Vinci, the critical ability to simply observe, record and process information with new thought was similar to the process of other master artists. However, Leonardo da Vinci did not separate the two outcomes of scientific and artistic observation because both derived from the same source, simply with different interpretations. This was a remarkable leap in our intelligence, ability for free thinking and new innovations. Einstein himself noted that pure, unobstructed observation enhances the imagination, the building block of original thought. Through observation, the ability to clearly see what is really in front of the viewer assists the human mind to imagine new visions with greater facility. Observing more details about any subject translates to seeing more in the mind's eye with innovative thinking. Recording with accuracy is not a singular achievement; it is a bridge into seeing something new.
Art is proof of intelligent life and our transcendent, even mystical, connections to others. The artists from the Florence Academy of Art who are being exhibited at The Richard J Massey Foundation for Arts and Sciences share their art experience with a timeless realm. Their observations and imprints of vision capture the essence of all the senses through art. What we see and therefore experience is a precious recording of consciousness, filtered by thought, that expresses what it is to be human. Observational painting, drawing and sculpture is a unique accomplishment in human intelligence and imagination. On a flat pictorial surface, it is a vision that expresses depth and feeling in a lifeless object. A profound connection to our environment is met with a compassionate union with the subject. This pinnacle in art gives us the ability to feel without being able to touch, smell the fragrance without the scent, taste the food without it touching our lips, listen to the music without hearing the notes and see the subject after it is already gone. It is truly remarkable that Florence Academy artists beckon the viewer to deeply feel the essence of a moment, a place, even the spirit of another person fused with the artist's voice.
Revisiting classical art foundations breathes new life into the language of contemporary art. "Chiaroscuro" is not merely the Italian word for the full range of light and dark, it is also the symbol for the primordial origin of life itself and the ability to experience the extensive range of visual language. Light is the core energy source of life on earth; we could not exist nor survive without it. We can experience observation because we experience the energy and beauty of light. An artist who understands and translates the power of light makes a quantum leap in seeing with a greater vision.
The Florence Academy of Art will bring a new renaissance in art education to the New York metropolitan area in 2015 when it opens a branch of the school at Mana Contemporary. A timeless institution will establish new roots of an extraordinary art education by nurturing classically trained contemporary artists who will forge masterpieces of the twenty-first century.
- Tarra Bandet (Curator)
BIOGRAPHY: TARRA BANDET
Tarra Bandet expressed an early childhood passion for all fine arts, eventually focusing on symbolic narratives in drawing and painting. The common threads of mysticism and mythology are constantly interwoven in Miss Bandet's approach to her own visual language. Diverse interests in painting and art history lead Miss Bandet to work closely with Abstract Expressionist painter Grace Hartigan from the New York School. After graduating with a Masters Degree in Fine Arts from the Maryland Institute College of Art, Miss Bandet began teaching studio art at MICA and other colleges.
Miss Bandet has continued to explore contemporary art through her love for nature, symbolic narratives and art history with special interest in he Old Masters, Romantic Classicism, the Pre-Raphaelites and Art Nouveau. Multiple interests have flourished in Miss Bandet's artwork, primarily with a focus in mixed media, painting, drawing, mosaic glass, sculptural forms and installation. Recently, a new concentration in art performance, video, curating and writing has expanded her art repertoire while collaborating with photorealist artist, Yigal Ozeri and the Richard J. Massey Foundation of Arts and Sciences in New York. Miss Bandet's recent direction in curating and writing about art became a natural transition from teaching and her own exploration of an expansive art process.
Miss Bandet is a professor who currently teaches art at Montgomery College in the Washington DC area. Presently, she has art studios in the Washington DC area and in the New York metropolitan area. Her most recent work has been exhibited in Paris and New York.
ABOUT THE FLORENCE ACADEMY OF ART
Daniel Graves founded The Florence Academy of Art in 1991 in a small studio in the gardens of a local Florentine palace. His intent was to offer students the best possible training in the methods of the masters. By word of mouth, the handful of students who had come to study with him grew to exceed the space available. In 1994, the Academy moved to a 4500 square-foot studio, and there began its journey to become a bonafide school. Over the years, it grew from its first student body of 16 students, to studio locations in two countries offering classical instruction in drawing, painting and sculpture to 125 full time students. The Florence Academy of Art was accredited by the National Association of Schools of Art and Design in 2013, and will open its first U.S. branch in Jersey City, NJ, in January 2015.

Graves had travelled to Florence in the 70's in search of the techniques of those masters who inspired him most: Rembrandt, Titian, Velasquez, and Sargent, to name a few. There he discovered the richness and beauty of Italian painting fused with academic draftsmanship. He became aware that technical laws of craft existed and had to be learned, that they were separate from individual artistic styles, and could therefore be boiled down into principles and passed onto students. These principles, such as "light is form; shadow is atmosphere," are often known subconsciously by painters, and are embodied in their work, but because the knowledge so often is subconscious, many painters find it impossible to isolate, distill, and pass it on to students.

It became clear to Graves that Florence - with its rich history, artistic treasures, and natural beauty – was the ideal place to start a school to keep the tradition of great painting and sculpture alive. He took to the task of demystifying the training of an artist, and break down the complex task of learning to draw, paint, and sculpt from life into gradual steps. In looking to the atelier system of training as a model, part of the academy's mission soon became forming the next generation of teachers. All of the academy's instructors are therefore trained in the philosophy, methodology and language of instruction of The Florence Academy of Art. They pass on a consistent and clearly delineated body of knowledge.

At The Florence Academy of Art, students obtain a clear sense of how to progress through the school's curriculum, from learning to draw accurately to learning to use precise color values in oil or – for sculpture students – learning to use correct structure in clay. When students walk in the door of the Florence Academy, they are assigned a north light studio space and settle into a rhythm of working that will remain constant throughout their years of study. They spend half the day working from the figure, and half of the day in their studios, working on specific exercises. They attend weekly lectures in Anatomy, Ecorché Sculpture and Art History. They are taught the sight-size method of measurement in the early stages of the curriculum, and never work from photographs, but only from life.

Working in charcoal, drawing students develop accuracy, and, in preparation to become a painter, a sophisticated understanding of gradations of value. The students' cast drawings look like the actual casts, and their figure drawings have the weight and balance of a living person.

Painting students start en grisaille – that is, with painting in gray to become familiar with using paint to study values without the added complexity of color. Students use with a traditional limited palette of three colors, not including white – yellow ocher, English red, and black, and later add naples yellow, vermilion, cobalt blue.

Advanced students begin considering composition (e.g., to place emphasis on the gesture of the figure and an indication of the mood and personality of the model), while teachers guide them in developing their voice. The kinds of problems they begin to solve as advanced painters and sculptors are the ones they will face as emerging artists: what do I want to paint or sculpt? Why? What emotion do I want to convey and how? What areas of technical competence must I strengthen so as to not be held back in the articulation of my vision? Students will often hear the following advice from Daniel Graves, the philosophy by which he lives his own art: "We must have the courage to ask ourselves what we really care about, because if we do not know we cannot express it. We must develop our capacity for deep feeling, for what we know with our minds is only part of what we have to give to our art ---- we also have our hearts to give.... we must grow wise in our hearts, in tandem with honing our craft, in order to express ourselves in a way that will both touch and be meaningful to others. To seek beauty and meaning in our lives is to bring it into our art."

Over 200 students have graduated from the academy's full time program; 70% are currently working professionally as painters or sculptors in the figurative realist tradition.

Italy: Via delle Casine 21/R, 50122 Florence, Italy
Tel. +39 055 245444 – info@florenceacademyofart.com
Sweden: Götaforsliden 17, 431 34 Mölndal Sweden
Tel: +46 31 7060860 – info@florenceacademyofart.se
U.S.: 888 Newark Avenue, Jersey City, NJ 07306
info@florenceacademyofart.com
Self Portrait
Artist: Frøydis Aarseth
Medium: Oil on Linen
Dimensions: 11" x 20"
Picnic
Artist: Anthony Ackrill
Medium: Oil on Canvas
Dimensions: 30" x 48"
Talking Stick
Artist: Nicole Alger
Medium: Oil on Canvas
Dimensions: 30" x 36.5"
Blackbird
Artist: Elena Arcangeli
Medium: Oil on Canvas
Dimensions: 27.5" x 31.5"
Momento
Artist: Daniela Astone
Medium: Oil on Canvas
Dimensions: 31.5" x 27.5"
Other Voices
Artist: Stephen Bauman
Medium: Pencil on Paper
Dimensions: 29.5" x 25.5" (framed)
Transfiguration
Artist: Andreas Birath
Medium: Oil on Canvas
Dimensions: 19.7" x 25.6"
Feline
Artist: Robert Bodem
Medium: Bronze, Edition #2 of 12
Dimensions: 30" x 20 " x 10"
Wildflowers
Artist: Ryan Brown
Medium: Oil on Linen
Dimensions: 30" x 44"
Auguri
Artist: Basilio De San Juan Guerrero
Medium: Oil on Canvas
Dimensions: 39" x 39"
Description: ¨Omen, seduces time, a moment, where the decision unsettling moment changes the course. Fear, inqueitud retained by force, tension. An innocent step into the unknown in mystery unfolds, embarrassment, hardly breathing. What you gonna do? what would you find? Would You stay forever or a fleeting instant will fly in the wind ... Turn around! Meeting with artist, photo sessions late into the night for months, Shot, moment to moment is born. The hours pass, with the days and nights ... a watch keeps time, which continues what kills the coolness. An instant.¨
Winner of YICCA international contest 2013.
Attributes of Music
Artist: Michael DeVore
Medium: Oil on Linen
Dimensions: 30" x 20"
Artista que se venden, Cristina
Artist: Jordi Diaz Alamà
Medium: Mixed Technic over paper glue on wood
Dimensions: 23.6" x 19.7"
Diana
Artist: Simona Dolci
Medium: Oil on Canvas
Dimensions: 24" x 27.5"
Augury
Artist: Louise Camille Fenne
Medium: Oil on Canvas
Dimensions: 25" x 30"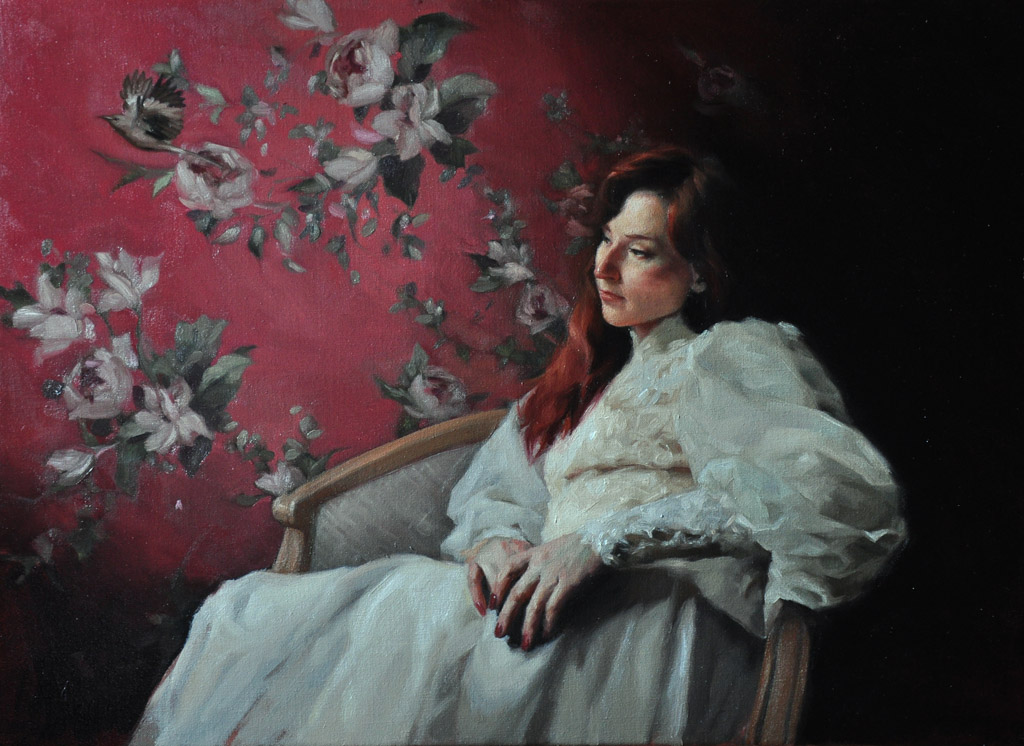 One Day Your Mockingbird Will Return to You
Artist: Jennifer Gennari
Medium: Oil on Linen
Dimensions: 16" x 24"
Imititian
Artist: Kevin Gorges
Medium: Oil on Linen
Dimensions: 16" x 12"
Surviving Modern Art (Self Portrait)
Artist: Daniel Graves
Medium: Oil on Linen
Dimensions: 23" x 31.5"
Self Portrait With a Smile
Artist: Richard Greathouse
Medium: Oil on Linen
Dimensions: 25.6" x 19.7"
Wading Through
Artist: Hege Elizabeth Haugen
Medium: Oil on Canvas
Dimensions: 32" x 52"
Cocoon
Artist: Cornelia Hernes
Medium: Oil on Canvas
Dimensions: 15.75" x 19.7"
Thicker Than Blood (Still Life with Hat, Cards and Pipe)
Artist: Maureen Hyde
Medium: Oil on Linen
Dimensions: 19.7" x 27.5"
Amore
Artist: Chippie Kennedy
Medium: Bronze, Edition #1 of 6
Dimensions: 20" x 11" x 10"
Her Gift to the World
Artist: Tatyana Kulida
Medium: Oil on Canvas
Dimensions: 26" x 32"
First Heavy Snow, City Hall
Artist: Leo Mancini-Hresko
Medium: Oil on Canvas
Dimensions: 21.5" x 27.5"
Blue Dream
Artist: Simone Moritz
Medium: Oil on Canvas
Dimensions: 25.6" x 19.7"
Reclining Nude
Artist: Carla Louise Paine
Medium: Oil on Linen
Dimensions: 60" x 32"
Narsicista
Artist: Tanvi Pathare
Medium: Oil on Canvas
Dimensions: 23.6" x 59"
My Amigo and Brother
Artist: Per Elof Nilsson Ricklund
Medium: Oil on Canvas
Dimensions: 15.75" x 25.2"
Strong Bird Carrying Young Gentleman
Artist: Paula Rubino
Medium: Oil on Linen
Dimensions: 40" x 30"
Double Portrait
Artists: Angel Ramiro Sanchez & Melissa Franklin Sanchez
Medium: Oil on Canvas
Dimensions: 25" x 39"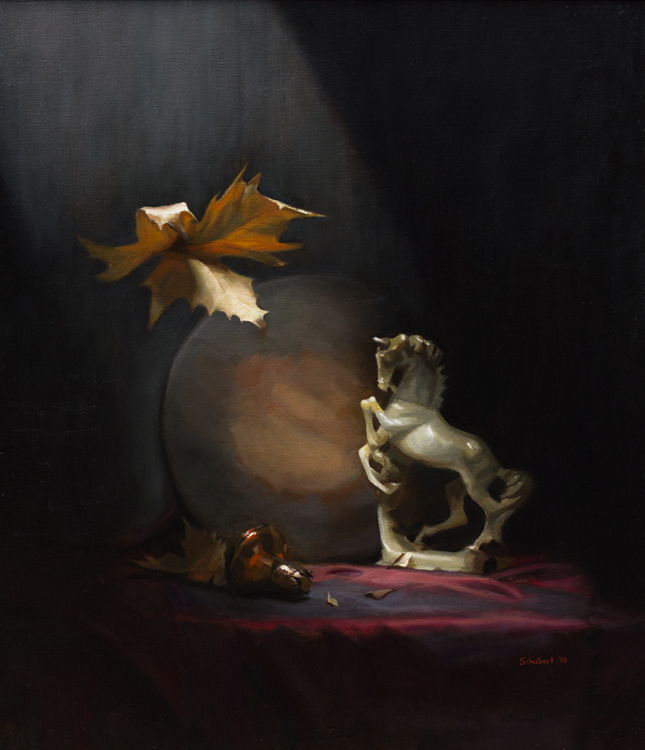 The Fall
Artist: Steffen Schubert
Medium: Oil on Canvas
Dimensions: 29.5" x 27"
Manna from Heaven
Artist: Lori Shorin
Medium: Polychrome Ceramic
Dimensions: 32" x 26" x 24"
Merchant
Artist: Vitaliy Shtanko
Medium: Oil on Canvas
Dimensions: 59" x 72.8" (framed)
Tenold
Artist: Jordan Sokol
Medium: Oil on Panel
Dimensions: 14" x 14" (framed)
Making Plans
Artist: Cecilia Thorell
Medium: Oil on Linen
Dimensions: 34" x 34"
Dexter Street
Artist: Peter Van Dyck
Medium: Oil on Linen
Dimensions: 38" x 34"
Still Life with Strawberries
Artist: Jesus Emmanuel Villarreal
Medium: Oil on Linen
Dimensions: 14" x 16"
Dogma
Artist: Toby Wright
Medium: Oil on Canvas
Dimensions: 30" x 40"
Gaya
Artist: Dana Zaltzman
Medium: Oil on Linen
Dimensions: 28" x 22"